Jackie Evancho, Greyson Chance following in Justin Bieber's footsteps? (VIDEO)
Jackie Evancho and Greyson Chance are two young musical sensations who have converted their Youtube channels into marketable brands.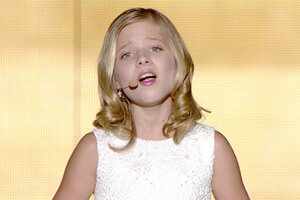 Video frame capture/Youtube
Justin Bieber isn't the only young artist that has Youtube to thank for his rise to fame.
Jackie Evancho made a splash with an appearance on Oprah's Farewell Spectacular, Monday, but the pint-size singer first made it onto TV by submitting a Youtube video of herself to America's Got Talent. Ever since then it's been a non-stop show-biz whirlwind.
Meanwhile, just a few years older, Greyson Chance first caught Youtubers' eyes when he posted a Lady Gaga cover on the video site. His version of Paparazzi didn't just capture the hearts of his classmates who can be seen in the background of the video - it received some 39 million views on Youtube.
With both Jackie Evancho and Greyson Chance beginning to make names for themselves in the music industry after posting on Youtube, some are asking how their career trajectories may be following fellow teen Youtube sensation, Justin Bieber.
---