Taylor Swift review: 'Red' is a disappointing effort
Taylor Swift review: One reviewer calls Taylor Swift's 'Red,' her newest album, 'empty' and 'lack[ing]... colorfulness and vitality.' Check out the full review of Taylor Swift's new CD which was released Oct. 22.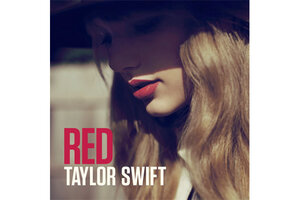 Big Machine Records/AP
Taylor Swift's "Red," the Grammy winner's fourth album, is a 16-track set that has the singer continuing to step away from her country roots to take on a more rock and pop sound. The album features songs that are big and stadium ready (she has a U2-like moment on album opener, "State of Grace") and others that are soft and slow.
But while "Red" contains its share of winners, many of the songs lack the colorfulness and vitality the album title suggests, leading to an overall letdown. Lyrically and sonically, the album lacks oomph and feeling: It sounds like we've heard it all from her before (check "Starlight").
Hooking up with some new — and popular — producers seemed like a good move for Swift, who has worked with a super-tight group of writers and producers on her first three albums (half of "Red" is produced by her longtime producer Nathan Chapman). Unfortunately, stepping out of her comfort zone doesn't always work.
Max Martin and Shellback, who have helmed No. 1 smashes for Maroon 5, Pink, Kelly Clarkson and others, have given Swift her first No. 1 pop hit with the juvenile-sounding anthem "We Are Never Ever Getting Back Together," which echoes Avril Lavigne in her teen years. "22," another Martin and Shellback collaboration, is an improvement, but not by much, with weak lines like: "Everything will be all right if we just keeping dancing like we're 22." The producers fare better on "I Knew You Were Trouble.," an adventurous track with Swift taking the bull by the horns, sounding aggressive over an electrified and electronic beat.
---