How 'Hatfields and McCoys' became cable's biggest-ever hit
The History Channel miniseries 'Hatfields and McCoys' is the most-watched non-sports show ever on cable. Yes, it's violent and vulgar, but it's also good, movie-style entertainment, critics say.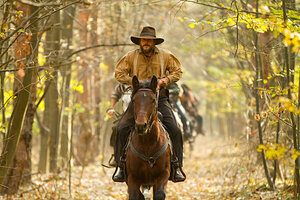 Kevin Lynch/History/AP
The History Channel has put the violent "Hatfields and McCoys" on the cultural map with its three-night, six-hour miniseries event ending Wednesday.
But the show has also sent a shot across the larger television landscape with its stunning ratings its first two nights. According to early Nielsen numbers released by the network, some 13.9 million viewers tuned in Monday and 13.1 million on Tuesday, making it the first and second largest non-sport audiences ever for a basic cable show.
Put another way, NBC's "America's Got Talent" – a show that has consistently performed as the summer's top-rated program and this year is drawing fresh attention for its new judge, Howard Stern – is drawing 10 million viewers.
"For a basic cable show to trounce the summer's number one program is a big deal in the television world," says Matt Whitfield, features editor of Yahoo! Entertainment. Expect not just a few knock-offs, he adds, but "any studio with a western or historical miniseries idea gathering dust on a shelf will give them another look."
---