Mariah Carey on 'Idol' and more: A preview of winter TV
Mariah Carey and Nicki Minaj come to 'American Idol,' 'Downton Abbey' returns for a new season and other TV shows to check out this winter.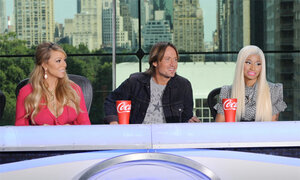 Michael Becker/Fox/AP
Where once the post-holiday schedule was a blizzard of chilly reruns, January is aburst with premieres and finales.
Already, the much-adored British miniseries "Downton Abbey" has made its much-awaited season return Sundays on PBS.
On IFC on Fridays, the hilarious "Portlandia" is back for its third season of sketch comedy poking fun at the peculiarities of Portland, Ore., starring Fred Armisen and Carrie Brownstein.
And NBC's mystery melodrama "Deception" has arrived on Mondays. Meagan Good stars as a detective going undercover at the home of a rich family with whom she was once friendly, to investigate a murder within the clan.
On Tuesday, PBS' "American Experience" begins a three-week documentary miniseries, "The Abolitionists," spotlighting Frederick Douglass, William Lloyd Garrison, Harriet Beecher Stowe, John Brown and Angelina Grimke.
---