'The Following': Is the violence too much?
'The Following,' the new crime drama starring Kevin Bacon, has drawn attention because of its serial killer plotline and graphic violence. 'Following' also stars actor James Purefoy.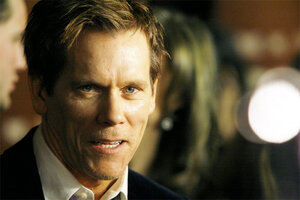 Andy Kropa/Invision/AP
Kevin Bacon is hardly the first movie star to make the leap to television. But his new show - serial killer thriller "The Following" - may qualify as one of the creepiest projects he has ever done.
Needless to say, Bacon – the charming teenager who turned a small American town on to dancing in "Footloose" in 1984 – plays the good guy in the new Fox television series premiering on Monday.
Well, sort of.
Bacon, 54, plays taciturn, vodka-swilling former FBI agent Ryan Hardy, called back from retirement to investigate charismatic murderer Joe Carroll (played by British actor James Purefoy), who inspires a cult following of copycat killers while behind bars.
But Bacon's character has plenty of his own flaws and finds himself seduced by Carroll's diabolical personality.
"I wanted my character to be complex and flawed. That's the kind of hero I like to play and I like to see," Bacon told reporters before the premiere.
"He gets strangely seduced by Joe, not sexually but in a friendship way. Joe sees into Ryan and is able to play him like a violin. My character is not an extremely well-read and educated man. He is not a people person, a charmer, a dynamic speaker and maybe not even someone you want to go have a beer with, and Joe Carroll is all these things.
"It's an exciting thing for an actor to be able to peel those layers back," he said.
GRAPHIC VIOLENCE, TENSE THRILLER
Part psychological thriller and part violent crime show, "The Following" is one of the most anticipated new dramas on U.S. television.
Variety called it "a full-throttle ride that, four episodes in, proves twisty, unpredictable and tense." Entertainment Weekly described Bacon's Hardy as "a telltale heart-warmer of a guy who tries to come off as cold and aloof. He doesn't fool us for a moment, though, and that's why we end up caring about this screwed-up hero."
---