More viewers 'binge' on episodes
DVRs and online providers like Hulu and Netflix are making marathon TV-watching easier than ever.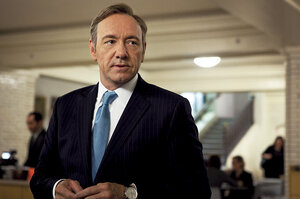 Netflix/AP
Let's face it; turning off the TV has always been a challenge. It can be far too easy to watch endless reruns of "Seinfeld," or episode after episode of "House Hunters" into the wee hours of the morning.
Now, with DVRs and online providers like Hulu Plus and Netflix, marathon TV-watching is easier than ever, and has led to a new phenomenon called "binge watching" – viewing several episodes or an entire season at one sitting.
"TV watching used to be seen almost as a vice, a bad habit. If you sat on the couch, you were viewed as a couch potato," says John Jurgensen, an entertainment reporter for The Wall Street Journal. "Now it's a more personal and curated experience. People are able to watch what they want to watch, and aren't just being fed what the networks are giving them."
In February, Netflix released its original series "House of Cards," with the whole first season available at once, a nod to the fact that many people are too busy to carve out the same night each week to watch an episode, or don't want to wait too long to find out what happens next.
---