Cristin Milioti, Sutton Foster and others: How Broadway vets are faring on TV
Cristin Milioti resolved a key mystery on 'How I Met Your Mother,' while 'Glee' continues to provide a weekly home for stage stars Matthew Morrison and Lea Michele. How are other Broadway actors doing in the switch to TV?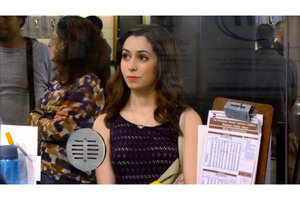 CBS/AP
The slow, lingering demise of "Smash" has felt more like a punch to the gut to the folks on Broadway.
The TV series about the making of a big stage musical came with a flurry of attention and some big names: Steven Spielberg, Debra Messing and Anjelica Huston. It was going to be a valentine to Broadway.
Sometimes, though, love letters get sent back.
After a first season with a healthy-sized audience averaging 7.7 million viewers, it returned this year to such dismal ratings it was banished to Saturday night. It won't be back for a third season.
But while TV was finally focusing on Broadway, plenty of stage veterans jumped to TV during the two-year run of "Smash." Some flamed out, some are holding on and some still hope:
— Three-time Tony winner Sutton Foster's show about ballerinas, "Bunheads," has been picked up for a second season on ABC Family.
— Two-time Tony winner Donna Murphy's show "Made in Jersey" was pulled after two episodes.
— Tony winner Lin-Manuel Miranda ("In the Heights") and Steven Pasquale ("Reasons to Be Pretty") lasted just two episodes in the NBC midseason drama "Do No Harm."
— "The Book of Mormon" star Josh Gad found no long-term job as the goofball son of the incumbent U.S. president in the NBC midseason comedy "1600 Penn."
— Andrew Rannells, Gad's former Broadway co-star in "The Book of Mormon," didn't have any better luck in the NBC show "The New Normal," which was yanked off the air.
— CBS' "Partners," starring New York theater mainstay Michael Urie, disappeared after just six episodes.
— "Venus in Fur" lead Hugh Dancy and Broadway leading man Raul Esparza are both on NBC's "Hannibal," which is on life support.
---