'Game of Thrones' wins TCA Best Drama award – check out the list of winners
'Game of Thrones' took one of the top prizes at the TCA Awards, snagging the Best Drama prize. 'Game of Thrones' aired its third season this year.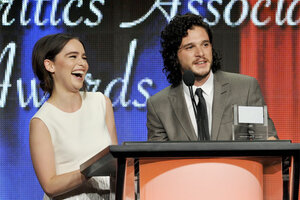 Chris Pizzello/Invision/AP
"Breaking Bad" won Program of the Year at the Television Critics Association Awards Saturday as comedians Key & Peele and "All in the Family" veterans Norman Lear and Rob Reiner brought down the house by impersonating presidents.
Accepting the TCA's Heritage Award, Lear and Reiner read from authentic, recently released transcripts of President Nixon griping about "All in the Family."
"Key & Peele" stars Keegan-Michael Key and Jordan Peele hosted the show, opening with their routine featuring President Obama and his "anger translator," Luther. Luther, played by Key, wondered why they were "hosting an award show that isn't even televised."
From there they took on subjects like Netflix's refusal to release its viewership numbers. He also wondered why "Key & Peele" wasn't nominated for any TCA Awards.
"Let's not get too meta here," said Peele, as Obama.
---