Pleased with bees
Alarm becomes delight as a beekeeper arrives to rescue a swarm.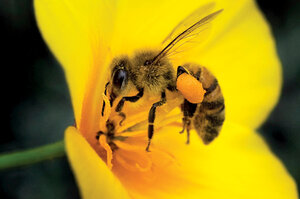 Joshua Sudock/The Orange County Register/AP
One spring Sunday I headed out to the back garden to check on a rambling rose. I stooped down and gingerly lifted one barbed branch. There, hovering at my feet were a few ground bees. I stood, hands on hips, contemplating the activity. It seemed early for ground bees. Then I looked up: Two paces from my face hung a massive swarm of bees. Definitely not ground bees. The teeming, two-foot mass was a perfect, heavy teardrop, hanging from the drooping limb of a neighbor's arborvitae. The outer bees hovered delicately over the inner core, an exquisite embodiment of surface cohesion.
Many people view swarms of bees as decidedly dangerous, perhaps murderous. Even the word "swarm" exudes a creepy sense of evil intent. My husband, John, is a biologist by training. His curiosity seems infinite, and he is free of such ignorant paranoias. He was thrilled. We tracked down a beekeeper.
Bob Fox arrived in a well-used truck. He brought what looked like a metal coffeepot with bellows (a smoker), a box of dried corncobs and kindling, leather gloves and netted headgear (which, on this day, he did not use), a long-handled brush, a metal hive tool, and a portable beehive wrapped in a tarp.
As Bob moved about, he kept up a low, calm patter. "You'd be amazed how many people call me with a swarm like this; and by the time I've come, they've destroyed the whole thing, down to the last bee." We all shook our heads.
---