Put your orchids on ice
They're not as fragile as you think. and here's how to help them thrive.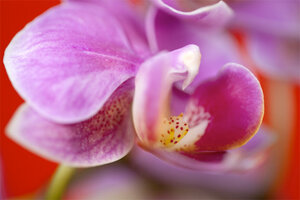 Melanie Stetson Freeman
One tends to equate orchids with steaming jungles, fancy corsages, and a rotund Nero Wolfe tending his rare beauties in a glass garden.
Not so for thousands of casual indoor gardeners. They think of orchids not in relation to the tropics or fat, fictional detectives, but in terms of a rather uncomplicated hobby.
Despite the myths surrounding the aristocrat of flowers, those who've tried growing orchids insist they aren't terribly finicky – as long as one gets the water requirements right.
The image of temperamental, high-priced orchids is rooted in history and legend. Confucius wrote that orchids were flowers of great refinement to be held in high esteem. Until the 18th century, orchids were revered and heralded as medicinal remedies and aphrodisiacs.
In the late 1700s, exotic orchids imported from mysterious parts of the globe captivated plant fanciers in Europe. Serious collectors were willing to pay large sums for an unusual specimen. Since then, orchid raising has been considered a passion for the wealthy.
But these days you don't need to take out a second mortgage to start an orchid collection. That's a good thing, because early in this snowy winter I desperately needed to see something in bloom. So I bought a pretty Phalaenopsis (fal-uh-NOP-sis; Nero's favorite) orchid at a local store and hoped I'd guess right as to how much water it might need.
Then I got home and noticed the simple watering instructions on the tag: Just add ice. How did someone come up with such a brilliantly simple solution? I needed to know, so I contacted the growers.
---