Arizona's solar aspirations in peril
The state aims to tap its 325 sunny days a year, but loss of an energy tax credit threatens its big plans.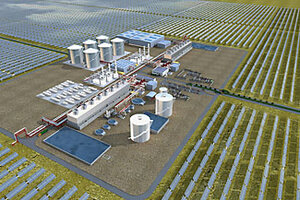 Business wire
The sun shines 325 days a year in Arizona, on average, and some here see that as the state's biggest energy asset.
But fledgling efforts to turn Arizona into the solar capital of the world depend on making the initial investment in new energy plants affordable – something that could become much more difficult, perhaps even impossible, if a federal tax credit for solar projects expires at the end of the year as scheduled.
Arizona is by no means the leader in developing renewable energies, but it has made progress. The latest achievement is at the Phoenix Convention Center, where workers are nearly finished installing 732 peel-and-stick photovoltaic solar panels on the two-acre roof of the center's West Building. The $850,000 project is the largest solar application in downtown Phoenix and is expected to generate 150 kilowatts of power yearly.
"We have a tremendous solar energy resource, up to seven or eight solar productive hours a day," says Ardeth Barnhart, associate director of the Arizona Research Institute for Solar Energy (AzRISE) at the University of Arizona in Tucson. "Other states like New Jersey have very progressive policies, but we've got more sun. We could theoretically power the US with a very large stretch of land – about 100 square miles – in Arizona."
---