As Gustav nears, oil companies shut down rigs
Disruptions in supply could push up pump prices, as they did after Katrina.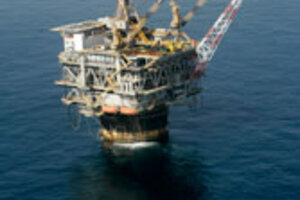 Mary Altaffer/AP/File
With tropical storm Gustav threatening to become a monster hurricane, the oil and gas industry is starting to batten down the hatches on its giant rigs in the Gulf of Mexico.
Already, many of the companies have evacuated roughnecks and geologists and are preparing to turn off the oil and gas deep under water.
On Thursday, Shell Oil Company, which produces about one third of the oil in the Gulf, said it had evacuated 400 workers with another 600 due out on Friday and Saturday. It was in the process of turning off the equivalent of 510,000 barrels of oil.
Any disruption of the oil and gas flow could eventually result in higher prices at the pump much as it did after hurricane Katrina. In recent days, the price of oil has moved up in anticipation of the storm but fell back on Thursday after some governmental organizations said they would release oil from stockpiles if there were disruptions.
"I think we are better prepared than when Katrina hit," says Phil Flynn, an energy analyst at Alaron Trading in Chicago. "The industry should be able to get production back up quicker."
The oil industry produces about 1.5 million barrels of oil per day from the Gulf, about the same as it did in August 2005 before Katrina hit. The month after the hurricane, production dropped to 450,000 barrels per day.
---