New Orleans' Lower Ninth Ward stirs and rebuilds
Three years after Katrina obliterated the community, a coterie of volunteers, including actor Brad Pitt, begins to repopulate these modest streets.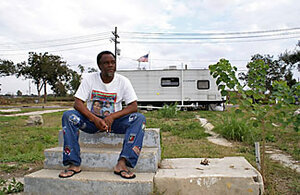 Bill Sasser
Three years after hurricane Katrina, a New Orleans neighborhood devastated by the disaster has had an improbable homecoming.
"It makes me feel so good to be back in my own home," says Gloria Mae Guy, a resident of the Lower Ninth Ward whose house of 28 years was washed away by a levee breach. "My home is where all my memories are, and I thank God for helping these folks who have helped me come back to where I belong."
For months after the floodwaters swept through, demolishing or rendering uninhabitable the Lower Ninth's homes, it wasn't clear that anyone belonged here. Politicians and planners urged the city to relocate residents to higher ground. Authorities kept homeowners out.
But an unlikely collection of volunteers, including actor Brad Pitt, architects, builders, nonprofit groups, and residents, began a recovery effort that could serve as an example for other areas of the Gulf Coast still struggling with rebuilding, they say.
"In the beginning, people were saying that no one would ever be coming back to the Lower Ninth Ward," says Patricia Jones, president of the Lower Ninth Ward Neighborhood Empowerment Network Association, an umbrella group of civic organizations. "We were the last part of the city to get our power and water back, over six months after Katrina. We were the last to get [federally funded] trailers, and the city tore down a lot of houses here they were not supposed to. But despite all that the Lower Ninth is back."
---