Is lobster the new turkey for Thanksgiving?
Cornish hens and Tofurkey also vie as holiday dishes.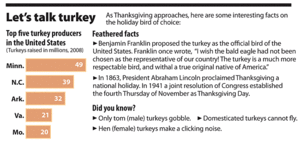 SOURCES: National Turkey Federation, GNS research/Gannett News Service
A New England woman mounts a campaign to buoy struggling local fishermen. An Oregon man, after several failed experiments, crafts a dish to bring a marginalized minority back to holiday dinner tables. New Orleans chefs splash a staid occasion with Southern flavor.
All of them share the same goal: to steal some of the Thanksgiving limelight from Tom Turkey.
No one will knock the beloved bird from its place in America's most traditional holiday. Some 88 percent of Americans ate turkey last Thanksgiving, according to the National Turkey Federation. But rivals are trying to chip away at the gobbler's lead.
This year's most direct challenge comes from Julia Munsey of Bangor, Maine, who worries about the state's lobster industry. The global financial crisis has depressed demand from Canada as well as the US, sending prices to lows not seen since the 1980s. This year's high fuel prices squeezed lobstermen even more.
---