Buffalo plane crash raises broader issues on icing
A safety alert in December cautioned against flying on autopilot in icy conditions.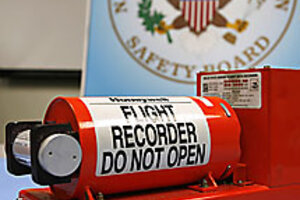 Hyungwon Kang/Reuters
Federal investigators are focusing on icing and the autopilot as they try to determine the cause of last week's fiery plane crash outside Buffalo, N.Y., that took 50 lives.
That's prompted a debate in aviation circles over whether the aircraft should have been on autopilot when it was evident the conditions were icy.
Some aviation experts say that relying on the autopilot kept the pilots from sensing the seriousness of the icing conditions, which could have caused the plane to lurch erratically in the 26 seconds before it crashed.
The National Transportation Safety Board (NTSB) is withholding judgment, and it could take several months before it reaches a final determination.
That exhaustive investigation into the cause of the crash is one of many factors that has helped make aviation in America still one of the safest modes of transportation.
The crash of Continental Connection Flight 3407 ended a two-year run with no fatalities in commercial aviation. That was a milestone in the past 50 years of commercial aviation.
"The reason we're seeing a lot fewer of these accidents is that we're getting better at understanding what leads up to these accidents in advance," says William Voss, president and CEO of the Flight Safety Foundation, a nonprofit international research foundation in Alexandria, Va.
---