Schools wrestle with how to spend stimulus funds
Should they launch new programs to help kids or try to save jobs threatened by tough economic times?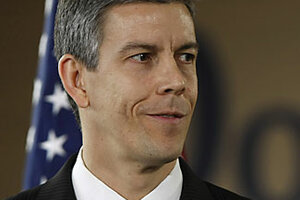 AP/FILE
At the heart of President Obama's historic $787 billion economic stimulus program is a tough choice for educators: Do states and local school districts use the $100 billion spike in federal aid to do new things for kids or mainly to backfill the status quo?
The Obama administration is calling on schools to do both. But with state and local governments facing massive budget shortfalls, the challenge will be to avoid seeing the mandate to save existing jobs trump prospects for dramatic, systemic change.
"We're putting $100 billion on the table.... We may never see this kind of money in public education again," US Education Secretary Arne Duncan told urban school leaders at the annual meeting of the Council of the Great City Schools in Washington on Sunday.
"If all we do is use the stimulus money to invest in the status quo, we're not going to get to where we need to go. We're not going to get close," he warned.
Before the stimulus package, which Mr. Obama signed into law on Feb. 17, US public schools faced the prospect of a 18.5 percent drop in state funding through fiscal year 2010 – a shortfall of about $54 billion, according to the Center on Reinventing Public Education in Seattle.
Without federal help, that could have meant a cut of 9 percent of jobs in K-12 education, or some 574,000 jobs, according to the CRPE report.
---