States move against in-state tuition for illegal immigrants
In recent years, states have barred undocumented students from getting the lower tuition fees.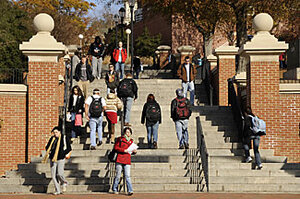 Mary Knox Merrill/Staff/FILE
Of all illegal immigrants, young people who were brought to the US as children have been the ones most likely to win concessions from the public. But the recession appears to be changing that, driving sentiment against educational benefits for undocumented college students.
Some states are explicitly refusing to allow undocumented students to pay in-state tuition fees at colleges, reversing a previous trend. In-state tuition tends to be two to three times less than what out-of-state students pay.
Since 2006, four states – Georgia, Oklahoma, Colorado, and Arizona – have made undocumented students ineligible for in-state tuition rates. In Arizona, the ban came through a voter initiative after legislation was vetoed by the governor.
Last year, South Carolina banned undocumented students from enrolling at all in its public colleges, and North Carolina barred them from its community colleges in 2007.
By contrast, between 2001 and 2006, 10 states – among them California, Kansas, and New York – passed legislation awarding in-state tuition rates to undocumented students. The issue is current again in California, where a new bill would let undocumented students qualify for financial aid.
---