Stranded on a plane? Grin and bear it, court says.
An airline passenger's lawsuit over a tarmac delay is thrown out. That makes it important for Congress to outline passenger rights, argue consumer groups.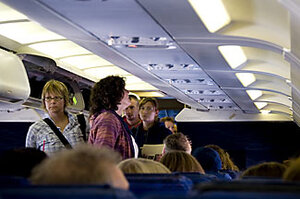 Ann Hermes/ The Christian Science Monitor/FILE
A court has thrown out a lawsuit brought against American Airlines by a woman who was stranded for 9-1/2 hours on the tarmac in Austin, Texas, in 2006.
In dismissing the case, US District Judge Robert Dawson said airlines are not legally bound to provide a "stress-free environment" when such a delay occurs.
But Catherine Ray, who brought the lawsuit that charged false imprisonment, isn't giving up the fight. She's filing a motion for the judge to reconsider the case, and if that fails, she plans to appeal.
"It's just unjust – the thought that an airline can do that to a person and get away with it," says the Fayetteville, Ark., woman.
Weather delays were behind the 2006 incident, and a number of other planes were stranded for eight hours or more. Two other lawsuits stemming from those delays are pending – one in California and one in Alabama.
In part because of the 2006 strandings, consumer groups have been pushing for federal legislation that outlines passengers' rights during lengthy tarmac delays. The dismissal of Ms. Ray's lawsuit makes it even more important for Congress to act, the consumer groups say.
"The bottom line is that if passengers can't get relief from the courts, we have to have Congress step in," says Kate Hanni, founder of FlyersRights.org. She brought the lawsuit that is pending in California.
---