California's drought raises rural-urban tensions over water
Farms see fallow fields and laid-off workers, and some urban consumers face their first water cuts in two decades.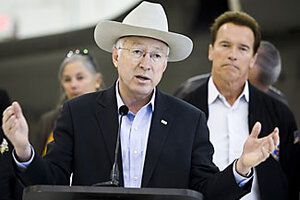 Max Whittaker/Reuters
California's third year of drought is stirring up long-standing – and usually low-simmering – tensions between farmers in northern and central California and urban consumers in the state's dry Southland.
The competition for scarce water was evident this week, as up to 19 million southern Californians learned they would face mandatory water restrictions for the first time in 18 years and as tens of thousands of farm workers marched through the Central Valley to protest federal and state cuts in irrigation water for the current growing season.
Though Los Angeles is recommending a cut in water use of 15 percent – and surcharges for those who miss the mark – the agricultural set is not placated. The cutbacks for consumers are not nearly equal to what's happening in farm fields, where growers don't expect to get any federal water deliveries at all and have had to lay off thousands of workers.
It's "too little, too late," says Central Valley farmer Stephen Patricio of the urban water-conservation measures. Los Angeles should cut water use by at least 30 percent, he says.
The Metropolitan Water District (MWD) of Southern California on Tuesday announced cutbacks to local water agencies, citing the drought and the tighter environmental restrictions in northern California's Sacramento-San Joaquin Delta, which supplies much of the water to the south. Los Angeles, for instance, gets half its water from the MWD.
---