New York plot shows 'bunches of guys' can become terrorists in post-9/11 world
Organized groups are still the main threat, but homegrown jihadists can be very dangerous, too.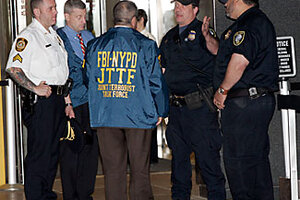 Chip East/Reuters
The four men arrested May 20 after planting what they believed to be bombs near two New York City synagogues appear to be homegrown would-be terrorists. According to the FBI, they met in prison in the US – not some far-off training camp along the Afghan–Pakistani border.
But even without organized instruction, so-called "bunches of guys" jihadists can still be very dangerous. Participants in the New York temple plot allegedly were willing, even eager, to attack unsuspecting civilians and US military aircraft.
"The desire was clearly there," says Bruce Hoffman, a terrorism expert and professor at Georgetown University's School of Foreign Service.
The temple plot suspects were apprehended after planting a 37-pound inert explosive device in the trunk of a car outside the Riverdale Temple, and two more inert bombs outside the Riverdale Jewish Center, another synagogue a few blocks away, said US law enforcement authorities.
Police blocked their escaped with an 18-wheel truck, and smashed windows of their black sport utility vehicle. After that the suspects offered no resistance to arrest, according to police.
The four men did not know that the "bombs" they had planted would not have exploded. An FBI informant had infiltrated the group, and provided dummy explosives and other weapons.
The informant was driving the getaway car when the men were arrested, according to a federal complaint filed in district court. Authorities had followed the group's activities with wire taps and video surveillance.
---