Subway crash investigators look at early-warning system
Among the other new clues about Monday's accident: Marks on the rail tracks could suggest braking.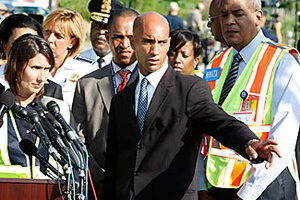 Larry Downing/Reuters
Federal investigators looking into the fatal subway collision in Washington turned up an anomaly today in the Metro's early waning system.
A 740-foot circuit, or segment of track, did not check out in tests near Monday's collision site between the Takoma and Fort Totten stations.
It's too early to draw conclusions, National Transportation Safety Board agents say. But they are probing whether the defects in the signal systems contributed to the crash that killed nine and injured 80 commuters during Monday's evening rush.
"Their plan is to follow up on the testing today and bring in a six-car train and see what kind of information they get from the circuitry at that point," said Debbie Hersman, a member of the National Transportation Safety Board.
An onboard computer, apparently in operation at the time of the crash, is programmed to prevent trains from getting closer than 1,200 feet.
Inspectors also reported bluing on the track some 300 to 400 feet prior to the point of collision. It indicates that "some emergency braking might have taken place," Ms. Hersman said.
---