The importance of Flight 447's missing black boxes
Black box data can provide key clues to how the crash happened, information that's vital for future airline safety and design.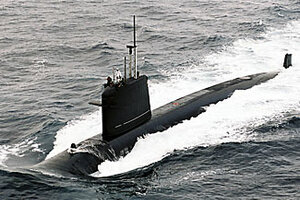 Marine Nationale/ECPAD/Reuters/File
If the flight data recorders from Air France Flight 447 are never recovered – as seems increasingly possible – their absence will make it difficult to figure out what caused the accident and to apply any lessons for improving future air safety, say some aviation analysts.
The so-called black boxes, which are actually bright orange, contain recording equipment that hold keys to understanding what happened in the last minutes aboard the Airbus 330-200 aircraft before it apparently broke up over the Atlantic Ocean June 1.
The Airbus was on a routine flight from Rio de Janeiro to Paris with 228 people aboard. There were no survivors. The flight captain and the steward were among the 50 bodies recovered so far, according to Air France.
Black box data include recordings of the pilots' last words in the cockpit, as well as a computerized record of how key parts of the plane were functioning. Combined with physical information gleaned from the wreckage, the data help investigators piece together what happened – and, from that, to recommend changes either to aircraft design or pilot training to improve future aviation safety.
Without that data or more recovered wreckage, aviation analysts say, there's little to go on other than speculation.
"That would probably cast a cloud over a number of things that conceivably could be cleared up with greater information and physical evidence – which may be unfair," says Robert Mann, president of R.W. Mann & Co., an aviation consulting firm in Port Washington, N.Y.
---