Swine flu vaccine: Is it ethical to say no?
The government wants as many Americans as possible to get vaccinated against the swine flu. But what does that mean for people skeptical of the vaccine's safety and efficacy?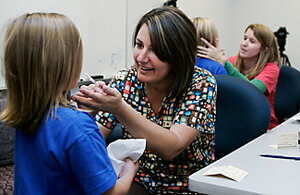 Sue Ogrocki / AP
Does Americans' right to determine what is best for themselves and their families trump the federal government's efforts to head off what it believes could be a flu pandemic?
That is perhaps the primary ethical question at the heart of the controversy surrounding the government's swine flu vaccination campaign, and the answer is deeply contested by those on both sides of the issue.
So far, many Americans are balking at the vaccinations, saying there are too many questions about the effectiveness and safety of the vaccine, considering that, for most, the illness does not present a serious threat, according to health experts.
Yet it's clear that the voluntary inoculation program is the keystone of the Obama administration's efforts to combat the H1N1 virus, or swine flu. The US government says it has no intention of forcing vaccinations, but its entire flu strategy could be undermined – endangering public health, they say – if a substantial portion of the US population opts out of the $3 billion program.
The debate is "changing the parameters" for individual responsibility, says Andrew Askland, director of the Center for the Study of Law, Science and Technology at Arizona State University in Tempe.
"Lots of people like the idea of everyone else getting inoculation and, 'If they do, then I don't have to,' " says Professor Askland.
Distrust of the government's vaccination plan is evident in recent polls, which show that two-thirds of parents, despite widespread government assurances, have serious reservations about the vaccines' effectiveness and safety.
---