Boeing 787 Dreamliner: What's in it for passengers
Boeing's 787 Dreamliner, which had a successful first flight Tuesday, boasts next-generation aviation technology that's supposed to help it fly faster and farther. But it may also provide a more comfortable ride for passengers.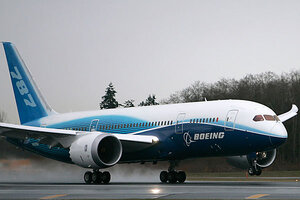 Robert Sorbo/Reuters
From nose to tail and wingtip to wingtip, Boeing's new 787 Dreamliner passenger aircraft, which flew its first test flight Tuesday, reflects the most advanced aviation technology available today. That includes its aerodynamic design, engines, flight controls, and avionics.
"This jet, the first conceived and built in the 21st Century, is anything but basic," writes Michael Mecham in Aviation Week, the website of Aviation Week & Space Technology magazine. "One bullish analyst once referred to it as the 'iPhone of aviation,' high praise indeed."
But from the passenger's point of view, the desire to fly safely, comfortably, and without drama is more important than how all the new gizmos work. No one can fully guarantee on-time arrivals, sufficient legroom for taller passengers, or the quality of food. But Boeing says that those flying aboard the 787 can expect a better experience.
The passenger experience
According to Boeing, these improved features include:
• Windows in the 787 are 65 percent larger, and there are no mechanical shades. Instead, individual passengers can adjust the window next to their seat from fully transparent to completely dark.
---