'Iranian Cyber Army' hack of Twitter signals cyber-politics era
Activists of all political stripes are expected to more aggressively pursue their ideological adversaries by any means necessary in cyberspace. On Thursday, Twitter was attacked for a second time, with an unknown group called the Iranian Cyber Army claiming the strike.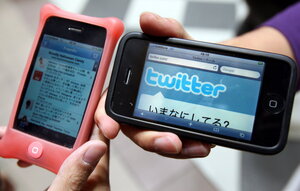 Koji Sasahara/AP
Politics online is becoming just as volatile as politics on the street. Just take Twitter. On Thursday night it was attacked for a second time, supposedly by politically motivated hackers with an ax to grind over how the popular mini-blogging site has evolved into a useful tool for activists.
An unknown group called the Iranian Cyber Army claimed the latest strike. It successfully redirected Twitter traffic to a website that contained an anti-American message. The group has also claimed attacks on the website belonging to several Iranian opposition groups.
In August, Twitter was hit in a cyberattack that also took aim at Facebook and Google. The target of that strike was believed to be a Georgian blogger and popular online critic of the Kremlin for its actions in the 2008 war with Georgia.
"This is just politics of the future," says James Lewis, a cybersecurity expert at the Center for Strategic and International Studies in Washington. "This is better than spray paint but it's roughly in the same family."
---
Follow Stories Like This
Get the Monitor stories you care about delivered to your inbox.