Miami's anxious Haitian community readies Haiti disaster relief
With more than 350,000 Haitians living in Florida, the emotional shock waves from Tuesday's earthquake are severe. In Miami, community leaders begin to organize Haiti disaster relief.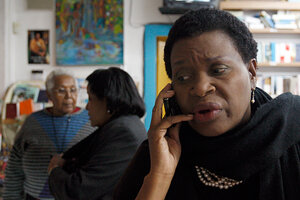 Alan Diaz/AP
It did not take long for Jean-Robert LaFortune's telephone to start ringing with calls from the anxious, the desperate, and the bewildered. "What have you heard?" people wanted to know. "What can we do?"
So vast is the scale of the disaster back in his birthplace of Port-au-Prince in Haiti that Mr. LaFortune, a prominent activist leader within Miami's Haitian-American community, was at a loss to know what to recommend.
"Many people are calling loved ones on the island to learn their conditions, but have not been successful," he said Tuesday night. "Not a single one that I know has established contact. There's a lot of panic in Miami."
With more than 350,000 Haitians living in Florida, the emotional shock waves from Tuesday's earthquake have stretched far beyond Hispaniola's own shores.
In Miami's Little Haiti district – whose residents have mobilized aid to Haiti so many times before, following tropical storms, mudslides, hurricanes, and floods – the scale of the latest natural disaster brought despair and disbelief, said LaFortune, sending them scuttling to their churches to pray, or gathering around their televisions in shocked silence.
"It's like there is an omen hanging over Haiti; this is what most Haitians believe," he said. "It's like nature has revolted against us. We don't know what we have done, what crime we have committed for this to happen."
As president of the Haitian-American Grassroots Coalition, an umbrella organization made up of 15 community-based and advocacy groups in Miami, LaFortune was set to meet Wednesday morning with the Haitian consul to discuss how Florida's Haitian diaspora might come to the aid of their countrymen once again by donating food, clothing, money, and manpower. Hopes are that aid organizations already on the ground in Haiti will expedite rescue and recovery efforts.
---
Follow Stories Like This
Get the Monitor stories you care about delivered to your inbox.