Toyota recall update: dealers face full lots, anxious customers
As the Toyota recall grows to 9 million cars worldwide, dealers in America handhold worried customers and brace for losses of up to $2 million a month.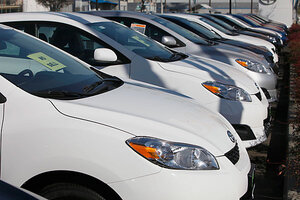 Nick Ut/AP
With Toyota suspending sales of eight models this week due to flawed gas pedals, dealerships across the country are feeling the pain with lost revenue, panicked customers, and discouraged sales staff.
US Toyota dealers may lose as much as $2.47 billion in combined monthly revenue from the halt in sales of both new and used versions of those models, according to a Bloomberg news report. John McEleney, chairman of the National Automobile Dealers Association and a Toyota dealer, told Bloomberg that each of the 1,234 Toyota dealers in the US could lose out on $1.75 million to $2 million a month in revenue.
"It ripples through," says Robert Boch, co-owner of Expressway Toyota in Dorchester, Mass. "When they say 'by building a car you employ 50 people,' well, you certainly feel it now. From the plant to the finance company to sales people, we've all been affected."
Persisting problems with accelerator pedals getting stuck led Toyota to suspend sales of certain vehicle models earlier this week, including the popular Camry and Corolla sedans. Toyota had already recalled 2.3 million sold vehicles since last week.
---
Follow Stories Like This
Get the Monitor stories you care about delivered to your inbox.