US to probe Prius brake problem; Japan orders Toyota to investigate
More than 100 US drivers have complained to a federal agency about a Prius brake problem; Japanese drivers have filed 14 complaints. Toyota's woes deepen.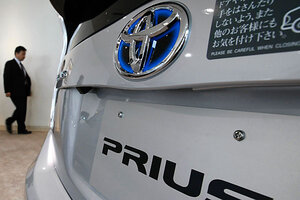 Kim Kyung-Hoon / Reuters
In the wake of its massive global recall earlier this year, Toyota is facing more braking problems, this time with its iconic 2010 Prius hybrid.
US drivers have filed more than 100 complaints with the National Highway Traffic and Safety Administration (NHTSA) about weak and inconsistent braking on bumpy roads and slippery surfaces.
"I have been driving my 2010 Prius for 6 months and have experienced the following nearly 10 times," wrote one driver on NHTSA's complaint database. "When braking, if a pothole or bump in the road is hit, the car seemingly jerks forward/accelerates for a split second."
US officials will investigate complaints about Prius braking problems, Transportation Secretary Ray LaHood said Wednesday at a Christian Science Monitor breakfast with reporters.
The Japanese government, on Wednesday, also said it has ordered Toyota Motor Corp. to investigate the problem, in response to 14 complaints related to Prius braking problems filed in Japan.
---