As Obama meets black leaders, four facts on race and the economy
President Obama met with national African-American leaders Wednesday over economic concerns in the community. Here are four indicators of how African-Americans are faring in the recession.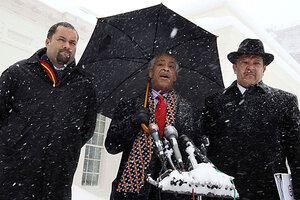 Larry Downing/Reuters
President Obama met Wednesday with leaders from one large group that has been hit particularly hard by the recession: African Americans.
The meeting put a spotlight on a longstanding economic trouble spot – the persistent gap between blacks and the rest of America. Yet it also comes amid some signs of progress.
African-Americans are feeling more positive about the current economy than are whites, by one measure. A new poll by the Pew Research Center finds that 14 percent of blacks rate the current economy as "excellent or good." That number is little-changed from where it stood before the recession, and well above the 7 percent of white Americans who feel that way.
The president met with four African-American leaders in a closed-to-the-press meeting on jobs and the economy: Dorothy Height of the National Council of Negro Women, Benjamin Jealous of the NAACP, Marc Morial of the National Urban League, and the Rev. Al Sharpton of National Action Network.
 Here's a look at how African-Americans are faring in the current economy, on four fronts:
---