Mounting urgency as Asian carp threaten the Great Lakes
A congressional hearing this week on Asian carp in the Great Lakes region raises scientific questions and political difficulties. What are the best ways to prevent invasive fish from proliferating, and what would be the economic impact of blocking their passage from the Mississippi River?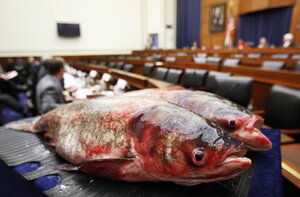 Manuel Balce Ceneta/AP
Washington's focus on snowfall this week was briefly diverted by fish – Asian carp – that threaten to invade and then gobble their way through the Great Lakes ecosystem, likely ruining the pleasure boating and fishing industries of abutting states and Canadian provinces.
Though a looming snow storm caused many official activities in Washington to be cancelled, congressional hearings on the fish threat sailed ahead Tuesday in a nearly empty hearing room – propelled by a mounting sense of urgency and scientific warnings that some Asian carp are even now in Lake Michigan.
The hearings came on the heels of a White House summit Monday to help state and federal stakeholders unite around a plan to fight the threatened invasion by the bighead and silver carp species, which have been working their way north since they escaped from Louisiana catfish farms around 1993. The summit produced a $78.5 million budget and thick "control strategy framework" that identified steps that could be taken.
Critics want specific steps and a timetable
The document was hailed as a unified plan by some and criticized by others for failing to identify specific steps to take – and a specific timetable for implementing them.
---