Tesla plane crash: Concern about airports near neighborhoods
The Tesla plane crash in East Palo Alto, Calif., occurred in heavy fog. The accident, which killed three Tesla employees, raises questions about general aviation flying near residential neighborhoods.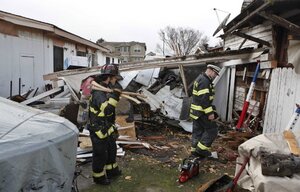 Paul Sakuma/AP
Three employees of Tesla Motors, the high-end Silicon Valley electric car maker, died when their twin-engine Cessna 310 airplane collided with power lines and then crashed into an East Palo Alto, Calif., neighborhood Wednesday morning.
The accident destroyed a children's home daycare center, damaged three homes, and caused massive power outages throughout neighboring Palo Alto, where the company is based. No one was killed or injured on the ground.
The cause of the crash has yet to be determined – and the names of those killed had not been released as of Wednesday afternoon – but many have blamed the dense fog that blanked much of the San Francisco Bay Area Wednesday morning.
Some reports following the crash suggest the victims included a Tesla executive and two of the company's engineers.
In a brief statement, Tesla CEO Elon Musk said the accident was a "tragic day" for the "small, tightly-knit company."
The company, which is known for its expensive, high-performance electric sports cars, has yet to be profitable and is on the verge of going public.
Mr. Musk took some heat recently for using a private jet to fly to Washington to secure a $465 million federal loan after Detroit automakers were criticized for doing the same thing.
---