Asian carp: Michigan report disputes cost of closing canal locks
A Michigan report says the cost of closing the locks of a Chicago-area canal to prevent Asian carp from invading the Great Lakes has been exaggerated.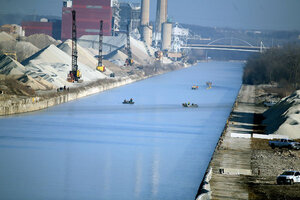 NEWSCOM
A report released this month says Illinois officials have "seriously exaggerated" the claim that closing a navigational lock at a Chicago area shipping canal connecting the Mississippi River to the Great Lakes would "devastate" the area's economy.
"Chicago Waterway System Ecological Separation: The Logistics and Transportation Related Cost Impact of Waterway Barrier" was prepared for the Michigan attorney general's office, which is leading a coalition of six states that want Illinois to immediately shut down the locks of the Chicago Waterway System.
Asian carp DNA was found east of the Chicago lock, which neighboring states and environmental groups say is evidence the invasive species is now entering Lake Michigan. At stake, they say, is a $7 billion annual fishing industry.
Illinois and related shipping interests say that another commodity is at stake — $16 billion in goods shipped each year through the waterway, according to the Illinois attorney general's office in an affidavit to the Supreme Court.
Anne Burns, vice president of public affairs and communications for the American Waterways Operators, a trade association representing the tugboat, towboat, and barge industry, says members of the group are also concerned about the Asian carp problem, but that shutting down the canal is not a solution because it puts companies at risk, and will increase pollution and public safety risks if goods were transferred to trucking or rail.
---