Joe Stack IRS attack and the growth of the tax resistance movement
Federal tax authorities spend a lot of time trying to convince Americans like IRS attacker Joe Stack that paying taxes is part of one's civic duty. But resistance – though not violence – is downright American, say tax protesters like Wesley Snipes.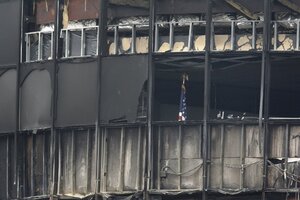 Tony Gutierrez/AP
Commenting on the suicide plane attack on an IRS office building in Austin, Texas, by tax resister Joe Stack, actor and tax protester Wesley Snipes shrugged his shoulders and said: "I think [tax revolt] was an issue even for the early colonists and the British, so what's new?"
The Boston Tea Party. The Whiskey Rebellion. The Sagebrush Rebellion.

Since its very founding, the US has been awash in sometimes violent anti-tax movements, giving way to a strain, amid ever broader federal reach, of a particularly pervasive, and more individualistic, form of rebellion in the late 20th century: The tax-resistance, or tax-denial, phenomenon.

Mr. Stack, a software engineer and musician, apparently bought into a tax resistance argument that dates back to the 1950s, as he references in his 3,000 word manifesto his attempt to claim "wonderful exemptions" that the IRS ultimately didn't approve.

Two people, including Stack, died and two others were hurt after he piloted his Piper Cherokee into a 200-person IRS office in Austin's Echelon Building on Thursday.
Deep resistance to taxation
---