Healthcare summit: Chance for compromise or 'trap' for the GOP?
Obama is urging lawmakers to take a constructive approach to the bipartisan healthcare summit on Thursday. But many members of the GOP are wary of the meeting.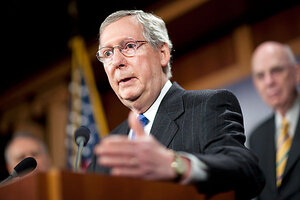 Joshua Roberts/Reuters/File
The coming week could provide important signals about whether bipartisanship has a chance these days in Washington – or whether partisan gridlock will become only more entrenched as the 2010 midterms approach.
On Thursday, President Obama will host a televised bipartisan summit in hopes of reviving healthcare legislation in Congress. He announced the meeting after Massachusetts elected Republican Scott Brown to the US Senate, which ended the Democrats' filibuster-proof supermajority in that chamber.
Ahead of the summit, the White House is expected to release an updated healthcare-reform proposal, which will probably combine elements of the Democratic bills passed by the Senate and House. Mr. Obama has also challenged Republicans to come up with their own proposal.
In his weekly address Saturday, the president outlined the approach he hopes lawmakers take at the summit.
"I don't want to see this meeting turn into political theater, with each side simply reciting talking points and trying to score political points," he said. "Instead, I ask members of both parties to seek common ground in an effort to solve a problem that's been with us for generations."
---
Follow Stories Like This
Get the Monitor stories you care about delivered to your inbox.