State Senate pulls the plug on Vermont Yankee nuclear plant
Critics say Vermont Yankee nuclear plant was too old and had too many problems. This could be a blow for the Obama administration's plan to refurbish and revive aging nuclear power plants.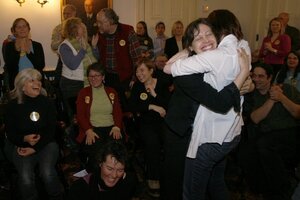 Toby Talbot/AP
The Vermont State Senate vote to retire the Vermont Yankee nuclear plant is a blow to the hope for nuclear renaissance – because much of it involves renovating aging plants that critics say are just too old.
On Wednesday, the Vermont Senate voted 26 to 4 to shut down the nuclear plant in 2012, as originally planned – apparently the first time a legislature has voted to close a nuclear plant. Louisiana-based Entergy had hoped to relicense the 40-year-old reactor, which had been criticized for collapsed cooling towers and other problems.
The decision may send a chill through other efforts to extend the lives of America's aging fleet of 104 nuclear reactors. (See Monitor report on relicensing reactors here.)
Antinuclear groups are thrilled
"Vermonters sent a message to President Obama and the nuclear industry today," Jim Riccio, Greenpeace's nuclear policy analyst said in a statement. "The nuclear renaissance is dead on arrival. We can retire old, decrepit, and leaking reactors like Vermont Yankee and help usher in the energy revolution that America needs."
Recent discovery of increased levels of tritium, a radioactive material in ground water, bolstered opposition in the Vermont legislature. Safety concerns had been tied to accusations that Entergy misled state officials on underground piping that may have been related to the leak.
---