Did Woodstock hippies lead to US financial collapse?
A conservative activist says hippies-turned-boomers are responsible for excessive spending, the mortgage crisis, and recklessness on Wall Street. He tells the story in his film, 'Generation Zero.'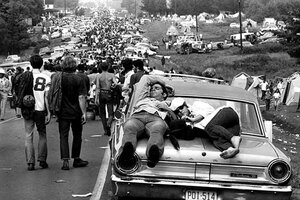 Newscom
A new film is gaining traction among tea-party followers for suggesting that the collapse of the US financial system has roots dating back 40 years to the Summer of Love.
"Generation Zero," a film set to premiere in March, examines what producer David Bossie says is a "historic perspective on a generational change" that led to the September 2008 bank collapse. Mr. Bossie says generational narcissism, as represented by the 1969 Woodstock Festival, is responsible for the excessive spending, mortgage crisis, and recklessness on Wall Street.
"The people who were at Woodstock turned into the yuppies of the '80s and the junk bond traders of the '90s and the Wall Street executives of the 2000s," he says. "They went from Woodstock to driving a Jaguar."
Defending baby boomers
Quantifying baby boomers as yuppies is a familiar position taken by conservative groups, says Leonard Steinhorn, author of "The Greater Generation: In Defense of the Baby Boom Legacy."
Mr. Steinhorn says it is common for boomers to become a target, because their generation helped "reverse the social order of the '50s" by creating civil rights for blacks, women, and gays, and by helping address issues such as environmental pollution.
---