Hawaii tsunami a no-show. Tsunami warning lifted for Hawaii
The Hawaii tsunami turned out to be more bark than bite as the tsunami warning for Hawaii has been lifted.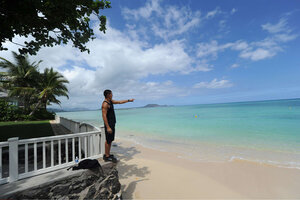 NEWSCOM
Hawaii dodged serious damage on Saturday when a tsunami triggered by a powerful earthquake in Chile merely lapped ashore, although residents were warned to stay away from coastal areas because the ocean could remain unsettled for several more hours.
The Pacific Tsunami Warning Center said it lifted its warning for the U.S. state, but added that coastal areas could still experience sea level changes or strong currents for several more hours.
As the tsunami headed toward the state in the early morning hours, Hawaii sounded warning sirens and began evacuating residents near the coastline.
IN PICTURES: Images from the 8.8 magnitude earthquake in Chile
The Warning Center had said a tsunami could cause waves of up to 8 feet. Civil defense officials sent firefighters and fire trucks into neighborhoods bordering the Hawaii coast, and used loud speakers to urge residents to evacuate.
Gas stations in Honolulu were jammed with lines of cars stretching a quarter of a mile in some places as residents waited to fill gas tanks before evacuating.
When the tsunami reached Hawaii, the ocean water changed color and receded in Hilo and Honolulu. But initial wave surges measuring roughly 3 feet (1 meter) -- nothing for an archipelago where champion surfers ride waves 20 feet high -- were not threatening.
---