John Patrick Bedell: Antigovernment extremism behind shooting?
John Patrick Bedell, the gunman identified by authorities in the Pentagon shooting, harbored intense antigovernment feelings. But where he fell on the political spectrum – right wing vs. left wing – is not only unclear, but it also may not be what's germane in the case.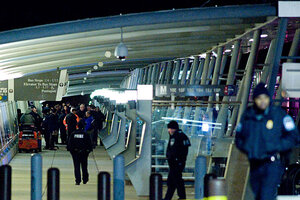 Cliff Owen/AP
UPDATE Monday, March 8: As more information emerges about Mr. Bedell, the less it appears that any coherent ideology was behind his actions, except that he was deeply antigovernment. The Monitor has changed the headline, subhead, and first paragraph of this story, which originally suggested a right-wing motive.
John Patrick Bedell, whom authorities identified as the gunman in the Pentagon shooting on Thursday, appears to have been an extremist with virulent antigovernment feelings.
If so, that would make the Pentagon shooting the second violent extremist attack on a federal building within the past month. On Feb. 18, Joseph Stack flew a small aircraft into an IRS building in Austin, Texas. Mr. Stack left behind a disjointed screed in which, among other things, he expressed his hatred of the government. (For more on this incident, click here.)
Details of Mr. Bedell's case are still emerging. But writings by someone with his same name and birth date, posted on the Internet, express ill will toward the government and the armed forces and question whether Washington itself might have been behind the Sept. 11 terrorist attacks.
However, law enforcement officials have yet to publicly state their theories as to Bedell's motives.
"I have no idea what his intentions were," said the chief of Pentagon police, Richard Keevill, in a Friday press conference.
According to Mr. Keevill, Bedell was a California native who slowly made his way to Washington by car over the past several weeks.
---