New life for Pontiac Silverdome: First up, monster trucks
The Pontiac Silverdome in Michigan, sold in November for about one percent of its 1975 construction cost, will reopen its doors with a monster truck event and a soccer tournament in April.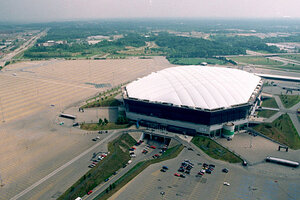 Mary Schroeder/Detroit Free Press/Newscom
Five months after the Pontiac Silverdome was sold at the fire sale price of $583,000, a Canadian real estate investment group has announced it will reopen the venue in April as a multiuse complex, despite a lawsuit that contests the legitimacy of the sale.
For a decade, the Silverdome has been a symbol of economic distress in southeastern Michigan, an area hit hard by mass layoffs, a shrinking population, the foreclosure crisis, and automotive plant closures. The hulking arena was sold via an auction sponsored by the city of Pontiac for about 1 percent of its $55.7 million construction cost in 1975.
In a press conference Thursday, Silverdome spokesman Tom Constand emphasized the venue's role in helping to revive the local economy. "We'll be creating jobs, working with local vendors and businesses, and making the Silverdome an engine of economic impact and community support," he said.
City officials at Thursday's press conference agreed. "This is a good day for the city ... to have the Silverdome on the cusp of becoming a major regional entertainment center again," said Fred Leeb, Pontiac's emergency financial manager. "The facility is poised to again generate revenue for the city and is expected to be a key piece in Pontiac's economic rebound."
---
Follow Stories Like This
Get the Monitor stories you care about delivered to your inbox.