Earth Hour 2010 aims to get 1 billion to turn off the lights
For this year's Earth Hour, set for 8:30 p.m. Saturday, more businesses and governments are expected to take part in the campaign to turn off the lights. The aim: at least 1 billion participants.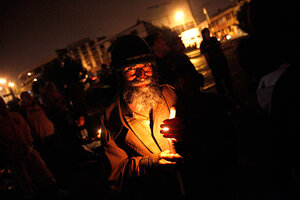 Daniel LeClair/Reuters
The Earth Hour concept is simple: Turn off the lights for an hour to acknowledge climate change and advocate sustainability.
Organizers hope this year for record individual participation, but they're also banking on major support from governments, companies, and other organizations.
Earth Hour began in Sydney, Australia, in 2007. This Saturday, Earth Hour organizers anticipate that more than 1 billion people in at least 125 countries will take part by turning off their lights from 8:30 to 9:30 p.m. local time. If this happens, organizers say, Earth Hour 2010 will be the largest concerted statement about climate change in history.
"Earth Hour is meant to unite the world," says Dan Forman, manager of media relations for World Wildlife Fund (WWF), which sponsors Earth Hour. "A lot of people find the issue of climate change a priority, and on Saturday we're going to make that statement to the world."
Government and corporate participation in Earth Hour are an important part of the WWF's strategy, says Mr. Forman, in a phone interview. "I hope political and business leaders recognize the overwhelming support from their constituents and customers in making the switch to a healthier, more sustainable, and secure planet," he says.
Earth Hour organizers suggest candlelight dinners, bonfires, or stargazing during the hour of darkness.
Earth Hour has drawn criticism in the past. Last year, conservative radio host Rush Limbaugh famously turned on his lights in protest.
---