Should the Vatican have adopted US reforms on sex abuse?
Following revelations about sexual abuse, the Catholic Church in the United States adopted a policy of 'zero tolerance' and mandatory reporting. Could Pope Benedict XVI have avoided his current difficulties if the Vatican had taken the same path?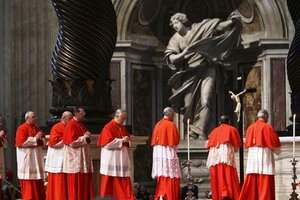 Alessandra Tarantino/AP
As Christians around the world celebrate the promise of Easter this weekend, the Roman Catholic Church faces increasing criticism for its handling of sex abuse cases involving priests in Europe, Latin America, and the United States.
Much of that criticism comes from American Catholics, who went through their own wrenching experience nearly a decade ago, when reforms were adopted to deal with child sex abuse by clergy.
"The tragedy is that the Europeans didn't get their house in order when they saw what was happening in the United States because they thought [abuse by priests] was an American problem," Thomas Reese, a Jesuit priest at Georgetown University, told CNN. "If they had adopted our reforms, they would be in a much better situation today."
Those reforms included zero tolerance toward priests who abused children, mandatory reporting of abuse allegations to legal authorities, and the creation of local boards of lay Catholics to respond to such allegations. Though the reforms were adopted as binding church law in the US, neither the Vatican nor the Catholic Church in Europe or other parts of the world followed suit, according to CNN.
---