UConn basketball puts history - and UCLA - in its sights
The UConn Huskies women's basketball team will seek its record-setting second straight undefeated season and 78th consecutive win in the championship game against Stanford tonight. Only the UCLA men's basketball team ever won more consecutive games – 88, from 1971 to 1974.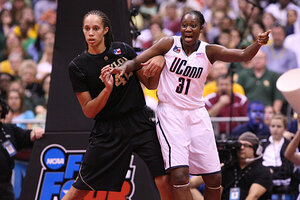 Newscom
One more victory. That's all that stands between the University of Connecticut's women's basketball team tonight and its 78th straight win, back-to-back national championships, and a secure place as the greatest women's squad in NCAA basketball history – and arguably the best ever of either gender.
And yes, that includes the undefeated UCLA men's teams led by Lew Alcindor and Bill Walton during the late 1960s and early 1970s. As great as they were, they never dominated the way the UConn women have this year.
UConn's march to tonight's championship game in San Antonio against Stanford has been one relentless "shock and awe" campaign. In fact, the Huskies have been so untouchable that commentators have taken to asking two questions:
1. Is their dominance bad for women's basketball?
2. Does this mean that the women's game is not progressing the way it should, and that UConn has somehow leapfrogged far ahead of the field?
How have they done it?
Certainly the Huskies,with their relentless defense, balanced scoring, and well-oiled team play, have revolved in a separate orbit this season. Their average margin of victory has been nearly 36 points per game.
---