Could rescue chambers have saved West Virginia miners?
Mine rescue chambers have been required since 2006, even though federal authorities could have required them as far back as 1969. But it's still unclear whether miners in this week's explosion in West Virginia could have reached the chambers.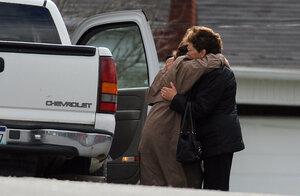 Newscom
Monday's explosion at a West Virginia coal mine is becoming a possible test case for the benefit of rescue chambers, which federal legislators mandated all mine operators have installed four years ago to save lives underground in case disaster strikes.
"Mines in this country really haven't been tested. This is the first test where chambers had been installed," says Patrick McGinley, a professor of law at West Virginia University who enforced mine safety laws in Pennsylvania as a former special assistant attorney general.
Rescue workers at the Upper Big Branch South Mine in Whitesville have been trying all week to reach two such chambers with hopes of saving four missing miners. An explosion Monday afternoon killed 25 miners and hospitalized two others, in what is considered the worst mining disaster in 25 years.
IN PICTURES: West Virginia mine explosion
The chambers are airtight safe houses that provide four days of clean air for up to 15 people, as well as a supply of food and water, communication and toilet facilities. They are located within 1,000 feet of worker areas and are spaced no more than 30 minutes apart.
---