Former astronauts pan Obama's proposal for NASA space program
In an open letter, 21 former astronauts and six others say Obama is 'throwing away' America's dominance in human spaceflight. The president has outlined major changes to the NASA space program.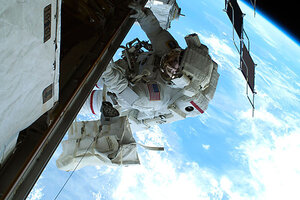 NASA/Handout/Reuters
Some of NASA's most accomplished astronauts, including four of the 12 who've walked on the moon, are accusing President Obama of reducing America's space program "to mediocrity" by scrapping plans for further lunar exploration.
In a searing open letter coinciding with Mr. Obama's visit to Florida's Kennedy Space Center this week, veterans of the Apollo, Mercury, Gemini, and space shuttle programs say the president is "throwing away" America's dominance in human spaceflight after "50 years of unparalleled achievement."
Moonwalkers Alan Bean, Charlie Duke, Harrison Schmitt, and Eugene Cernan, the last man on the lunar surface in 1972, joined other NASA luminaries in the attack – including Apollo 13 astronauts Jim Lovell and Fred Haise, Apollo flight director Eugene Kranz, and the National Aeronautics and Space Administration's former chief Michael Griffin.
In all, 27 people signed the letter, including 21 former astronauts. All the signatories are retired.
---