On Columbine school shooting anniversary, focus on gun 'loophole'
Three of the guns used in the Columbine school shooting 11 years ago came from a gun show where checking the buyer's background wasn't required. Activists want the law changed.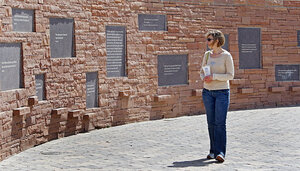 Ed Andrieski/AP
When Eric Harris and Dylan Klebold embarked on their shooting spree at Columbine High School in Littleton, Colo., in 1999, three of the four guns they used were purchased at a gun show by a friend who wasn't subjected to a background check.
Now, on the 11th anniversary of the Columbine school shooting where Harris and Klebold killed 12 classmates and a teacher and injured 23 others before shooting themselves, gun-control activists are focusing on the so-called "gun show loophole" that allows people to purchase guns from private sellers without the normal paperwork and background checks.
"This is such a simple fix for an important transfer point for crime guns," says Josh Horowitz, executive director of the Coalition to Stop Gun Violence.
Gun-rights advocates counter that the law is would do little to keep guns out of the hands of criminals and would add yet more red tape for many law-abiding citizens trying to purchase guns.
---