Gulf towns pray for news from Deepwater Horizon oil rig explosion
Roughneck towns along the Gulf coast are waiting for news from the Deepwater Horizon oil rig explosion. Eleven people are missing, although one family received a happy call.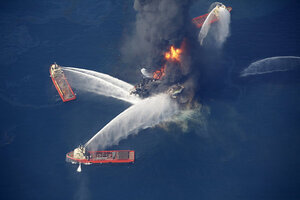 Gerald Herbert/AP
In the roughneck communities of coastal Louisiana, Texas, and Mississippi, families gathered and prayed Wednesday amid conflicting news reports about the plight of 11 oil rig workers missing after the Transocean Deepwater Horizon oil rig explosion Tuesday night.
Dora Ezell prayed, too, although hers had already been answered. Her husband, Miles Richard Ezell, a career rig worker on the state-of-the-art deepwater drilling platform, had earlier in the day been listed among the missing, but had been located in good shape.
"Definitely people need prayers," says Ms. Ezell, reached at her Hattiesburg, Miss., home on Wednesday. "The rig has received excellence awards, so I don't know what could have happened. It's always been a very, very safe environment. I just thank God I have a husband."
---