With Katrina comparisons inevitable, Obama plans oil spill visit
Experts say the brunt of criticism for the Deepwater Horizon oil spill in the Gulf of Mexico should fall on BP, the British oil giant. But President Obama's decision to visit the area soon is an indicator of potential political fall-out from what some say was a slow federal response.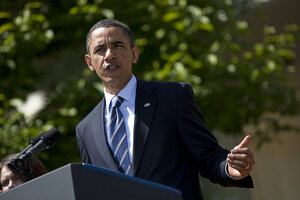 Evan Vucci/AP
President Obama will visit the developing oil spill disaster in Louisiana in the next 48 hours to show his command of a situation that threatens the economy and ecology of the Gulf Coast.

British Petroleum, which was leasing the Deepwater Horizon oil rig to poke the Mississippi Canyon for deepwater oil deposits, "is ultimately responsible under the law for paying the costs of response and cleanup operations" for the Jamaica-sized oil spill now sloshing up against the US Gulf Coast, Obama said last week.

But even as public pressure stepped up on the oil giant for failures to take greater safety precautions and for overestimating its ability to contain a major blowout, the Obama administration also moved to contain what some described as a "sense of déjà vu all over again" among Americans as federal response once again seemed overwhelmed by a major disaster.
---