BP oil spill halts US drilling permits, for now
Secretary of the Interior Ken Salazar announced that no new drilling permits would be released until a safety review ordered by Obama is released later this month. The BP oil spill has increased calls by environmentalists for a permanent ban on offshore drilling.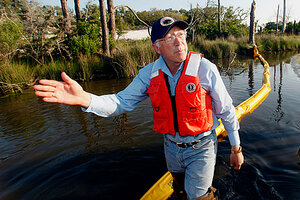 John David Mercer/AP
The Department of the Interior (DOI) has called a nationwide halt to the granting of any permits for new exploratory oil well drilling, pending the outcome of a 30-day investigation into the cause of the BP Deepwater Horizon oil spill in the Gulf of Mexico.
Standing outside BP's Houston crisis headquarters, Interior Secretary Ken Salazar told reporters late Thursday afternoon that no new drilling permits would be granted prior to the release of a safety review ordered by President Obama. The report is due May 28.
"We are putting things on hold relative to the granting of permits for well construction on the outer continental shelf," Mr. Salazar said, according to the Associated Press.
The move could delay plans by Royal Dutch Shell to drill in arctic waters off the northern coast of Alaska beginning in July. The company's rig - the Frontier Discoverer - is on its way to the arctic along with a flotilla of support ships.
But the start of Shell's drilling depends on the company winning a number of DOI permit approvals - including permission to drill in sensitive habitat occupied by Bowhead whales and other marine mammals. A Shell spokesman told the Monitor Wednesday that Shell fully expected to be drilling in the arctic in July "unless we are told otherwise."
---