Tricky maneuver: Will containment cap stop the BP oil spill?
Crews are lowering a steel and concrete containment cap over the underwater source of the BP oil spill in the Gulf of Mexico. It's a tricky maneuver, and there's no guarantee it will work.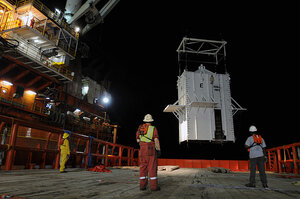 Newscom
Louisiana and the Gulf region are holding their collective breath as crews in the Gulf of Mexico attempt to staunch the flow of the blown Deepwater Horizon oil well head with a containment cap.
Using a crane to position the 100-ton, four-story-tall, concrete and steel box over the well, the operation is the first to attempt such a containment strategy at such a great depth. Working a mile beneath the surface of the Gulf, underwater remote vehicles will fine tune the final position of the box over the well head in the BP oil spill.
If successful, the containment box would begin funneling as much as 85 percent of the oil plume into a pipeline pumping the oil into a barge on the surface as early as Sunday.
IN PICTURES: Louisiana oil spill
"The schedule is fluid and changing," said BP spokesman Mike Abendhoff. "They're being extremely careful but want to get it done. You really only get one shot at it."
The containment effort at the well head comes as dozens of boats across the Gulf region work to keep the giant oil spill from coming ashore. Efforts include setting fire to the densest concentrations of the oil, dousing the slick with chemical dispersants, and laying thousands of feet containment boom.
Experts experienced with previous giant oil spills are skeptical about both efforts. Rick Steiner, an Alaskan oceanographer who worked for years on cleanup after the Exxon Valdez oil spill, spent yesterday observing the slick along the south Louisiana coast by private boat and plane.
"Out of 40 boats I saw dragging or deploying boom, about three [boom] actually seemed to be containing any oil," says Mr. Steiner. "This oil is so thoroughly mixed with water that it's just going right under the booms."
---