Mojave cross theft shows planning; veterans groups vow to rebuild
The Mojave cross, which the US Supreme Court two weeks ago ruled could stay, was removed early this week, sparking outrage.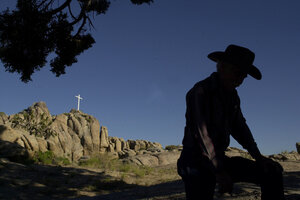 Steven Medd/The Press-Enterprise/AP/File
The removal of a cross-shaped veterans' memorial from the Mojave Desert has angered veterans' groups and spurred calls for its immediate restoration.
The cross, first constructed at the remote site in 1934 as a memorial to WWI veterans, has been the subject of a nearly decade-long legal fight over the constitutionality of a religious symbol on public lands, and had just two weeks ago been cleared to stand by the US Supreme Court.
The Veterans of Foreign Wars of the US (VFW) has vowed to catch the people who stole the cross, offering a $25,000 reward for information leading to the conviction of those behind the cross's removal.
"This was a legal fight that a vandal just made personal to 50 million veterans, military personnel and their families," said VFW National Commander Thomas J. Tradewell, Sr. in a statement. In a 5 to 4 ruling, the US Supreme Court on April 28, overturned an earlier federal court ruling that prohibited Congress from transferring public land around the cross to private owners, thus eliminating any perception of government-endorsement of religion. The court battle had gone on for several years as the memorial had remained covered, first with brown canvas, then with plywood.
---